12.02.08 18:05 Il y a: 4 yrs
Reflections by Dr Aruna Gnanadason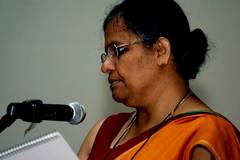 Dr Aruna Gnanadason, WCC, was part of the Living Letters solidarity team sent to Kenya by the World Council of Churches (WCC) from 30 January to 3 February 2008.
Read her personal reflections on this experience:
We have known Ambassador Bethuel Kiplaghat as a strong and competent Kenyan, who has served his government and the churches there, as well as the World Council of Churches and partners all over the world, with courage, strength of character and clear visions.  He has been sought out for his advice, he has led many a peace making delegation, and he has served the Prince of peace well!
It was only on this Living Letters visit to Kenya that I learnt that he belongs to the Kalenjin tribe and originally comes from the West of Kenya.  He has now initiated a movement in Kenya called Concerned Citizens for Peace and is slowly building an interfaith network of people from all walks of life and of all ages to work for peace in the country.
He was invited to speak to the Living Letters delegation at the Serena hotel - the site of many of the peace negotiations.  He spoke but briefly to us but left a deep impact on the team when he openly acknowledged that it was his people who had gone on a rampage against the Kikuyu people - killing and destroying them.  He broke down and wept when he spoke of the 35 men, women and children who had been burnt to death in the church where they were worshipping.  He spoke of the need for repentance and forgiveness if there is to be healing and pledged that as a sign of his own confession on behalf of his people, he will not rest till the church was rebuilt by the Kalenjin - as a small token and sign of their desire to be pardoned.
It was such testimonies that made our living letters visit to Kenya so worthwhile.  There can be no peace without justice, but there can be no peace if there is no acknowledgement of complicity in the violence and no asking for forgiveness and being forgiven - only then will healing come.
The churches in Kenya have been part of the problem.  They are, albeit for historical reasons, divided by tribal loyalties.  Missions, when they came to Kenya, converted the people in their tribal groupings and the churches in Europe and USA have continued to maintain relations with their "partner" churches inadvertently maintaining the tribal identity of denominations.   Church leaders in Kenya, we were told, had instigated tribal animosities in the pre-election period and did not speak out strongly enough against the violence in the post election period.  As the Red Cross representative of an IDP camp in Limuru told us, "Those who are killing others are still worshipping in different churches."
But, we came away with hope, because the churches have since gone a long way to work for peace.  Under the leadership of the National Council of Churches in Kenya, they have been working with the Inter-Religious Forum to bring peace in the country.  This forum includes not just other faith communities but denominations of Pentecostal and Evangelical churches, which are not part of the NCCK - thus forging greater unity in the country.  The Living Letters visit was warmly welcomed as sign of global solidarity with the churches in Kenya.  From them we have learnt what it means to come together for peace in a time when there is so much of division and hostility.
More information on the Living Letters visit to Kenya
National Council of Churches in Kenya
Background information on the Living Letters visits
---